Real talk: although it would be nice, not all digital marketers are working with a Coca-Cola sized ad budget.  In all my time as a digital marketing professional, I've never had a client with exorbitant funds available to drop on target audience and persona research.
Fortunately, for my clients, I come with knowledge and resources, no major study required.  Additionally, I have the ability to access quality, free data from Google Analytics– in fact, so can you.
Displaying Google ad campaigns on the Display Network is a common strategy that you can implement to boost brand awareness.  In this case, you'll probably want to direct the web traffic to your landing page; as you select your Call to Action (CTA) for these ads, you'll want to choose wisely.  Your CTA is the first glimpse a web visitor will have of your brand, and first impressions are critical for setting a web user's expectations of what will come next as they interact with your ad.
There are ways to test your Call to Action so you can make sure to pick the right one for your ad; my tips for this are outlined below.  The often used "contact us" CTA is a hard sell tactic and may not be the message your prospective customer wants to see right off the bat.
Let's break down how you can use analytics to explore whether or not you should begin with a softer approach such as "chat with a specialist", or perhaps "see plans and pricing".  These messages might actually be more appealing to your target audience instead of a CTA that sends the message, "buy now".
Look Over the History of Actions Taken By Previous Viewers Of Your Landing Pages
If the ultimate link on your display funnel leads to a currently live landing page, look at your data to find out what it is that visitors on your page tend to do once they get to the page.  You may already feel you know the ideal CTA for your ad, based solely upon your intent and your current page layout, nonetheless, when it comes to what your visitors actually do on your web page, you might be surprised.
To access your Landing Page information and user history, go to Google Analytics and navigate to the Landing Pages report.   Next go to Behavior > Site content > Landing pages.  You can see every conversion action taken by your users once you locate your landing page; from here you can determine what action is preferred by the majority of web users on your landing page.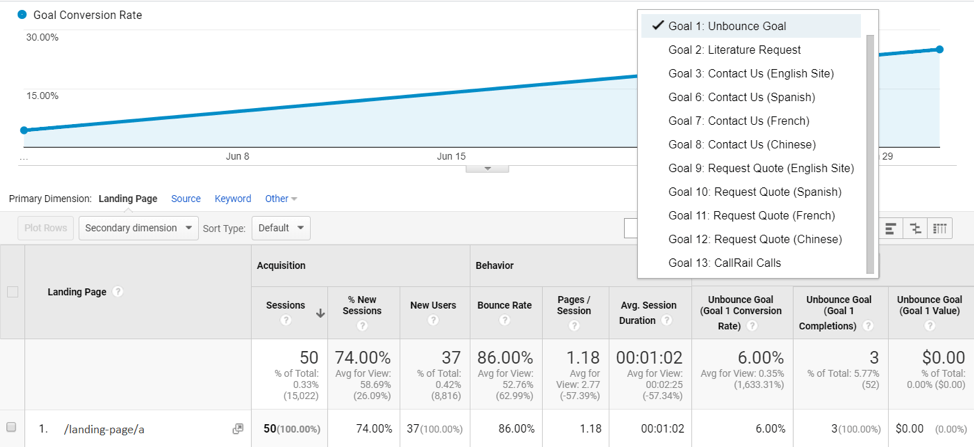 Although Google Analytics is one effective option for finding this information, Google Ads also has a new and helpful interface which allows another option to review your landing page conversions.
If you're still skeptical about this new interface, you should know that it has a pretty useful feature for displaying your landing page statistics on a group or ad campaign basis as seen below:

If your landing page offers visitors multiple actions to take, such as filling out a form or calling your company directly, you'll be able to see this information differentiated on Google Ads so you'll know which action is more popular with your users.
To talk to the writer of this article and project manager, Elliot, about any of your marketing needs, fill out the form below that goes directly to him.