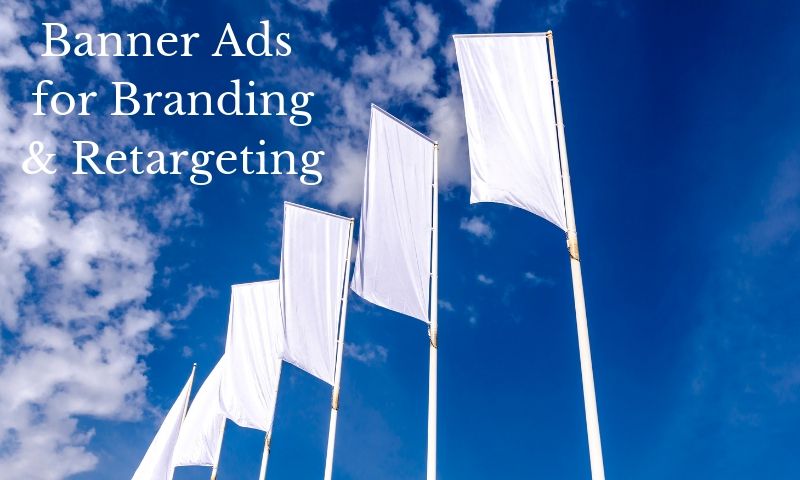 Banner and Display Ads are for Branding & Retargeting
I didn't get any conversions…
I hear it all the time and it's always a blow to hear that an agency was trusted to bring conversions and leads using banner ads and nothing else. Yes, you heard me correctly. As a responsible agency owner yourself, your heart may have just cringed, too.
Let's dive deep into what banner ads are and more importantly, what they are not. We'll look over ways you can best work with Traffic Oxygen, your Project Manager, and manage the expectations of your client. You worked hard to land your client; keep them by keeping it real.
Banner Ads for Branding and Retargeting: Your Responsibility as an Agency Working With Traffic Oxygen
Know your target audience

Have a branding vision, slogan, offer for your creatives and offer

Load your creatives or direct our graphic designer in their creation

Set realistic expectations for your clients based on your discussions with them on how you will measure and define the success of your project
Why Didn't my Campaign Bring Sales?
Traffic Oxygen is the Billboard you see driving along the highway (metaphor, here, marketing Rock Stars). If they drive by every day, you may become memorable enough that they look you up when they need you.
No one expects a billboard to make your target audience purchase your client's product or service. The owner of the billboard would never charge for that exclusive real estate by how many people made a purchase, right? How could she run a profitable business when so much is out of her control?
Let's say that billboard is showing a new restaurant: what if they have received multiple bad reviews? Is it the billboard's fault? Or if that target client does visit your restaurant and they can't get parking, the kitchen is filthy and there was bad service… did the billboard fail you or was a solid business foundation not laid before trying to bring in the masses?
We can create your landing page, create great banners with your direction, and help you craft a great offer for that restaurant. Now ask yourself, what market research was done prior to taking on this client so you can feel strong about putting your name on their campaign? Did you analyze the competition, do you know why they are flying high or crashing hard? Lay the foundation and don't be afraid to turn down a client that you can't help bring success.
This is a Team Effort! You and your client, you and Traffic Oxygen and the tools you use to find their success. – Kendra EJ Woodruff
Banner Ads for Conversions/Lead Generation: Danger Zone
Banner ads are one component of a lead generation machine

When a marketing funnel is set up using multiple verticals, it's highly beneficial to your efforts but will not work with just one component in place.
We are Traffic Oxygen, not Conversion Oxygen
We measure success by your Click-Through-Rate (CTR). When your CTR goes up, we feel successful. When your CPM goes down, we make adjustments and make suggestions. We see hundreds of projects each month and may just know a thing or two about how you can bring more interested traffic to your website and get more eyes on your brand.
If you've discussed TO services with your clients as lead generation or conversion magic, it's time to revisit those discussions. If you have layered TO into your robust, full-service agency lead generation bag of tricks, you are correctly serving your clients and we're proud to be your banner and display ad platform.
Have a peek at Banner ad industry-standard click-through rates.
If you feel rusty on just what it takes to drive leads, brush up on these killer lead generation tactics.
What Banner Ads Are
Branding. Retargeting. Period.
Banner ads are at the TOP of your marketing funnel, it's cold traffic, it's the first date. No one is going to marry you on the first date. Still brushing up? Wordstream says it best with this overview of the Marketing Funnel.
Our targeting and audience pools (in my humble opinion) superior to any 3ed party data I've seen in the industry and I've been in marketing and advertising since the days of five-buttons and your Google Ads were running. – Kendra EJ Woodruff, Marketing Director of Traffic Oxygen
As such, conversions can happen when the creatives are spot on, the offer is enticing and the timing is right. We run your banner ads and introduce your brand to your identified audience that's most likely to take your call to action (CTA).
What are the Responsibilities of Your Project Manager?
Set up your campaign from the details you're provided on your ideal client, patient, or customer.

Manage the real-time bidding of your campaigns

Monitor click-through-rate (CTR), Impressions and optimize for your best CPM by dialing up on publishers who bring you good traffic or dialing down and sometimes turning off those that do not perform.

Advise you of the availability of third-party data points.

During set-up/onboarding, your PM will advise you of which of our campaign types best fit YOUR agency strategy and objectives. We will advise you on what may bring you the best traffic or CTR for your ad spend.
Want to Take Your Campaign to the Next Level?
For marketing strategy and marketing research assistance, specialists are available to you with your projects.